Conscious Box
is a monthly subscription service focusing on sustainability, eco friendly products, and social responsibility. One Conscious Box arrives per month with a variety of unique pure & natural products. From organic food and vegan beauty products to essential oils and natural cleaning products, you're sure to find new favorites.
The July 2012 Conscious Box contained:
All Natural Face Eye Shadow
Aura Cacia Essential Oil
Aura Cacia Aromatherapy Deck
Just Great Stuff Bar
Naturally Its Clean Floor Cleaner
Jadience Cream
Madhava Samples
Mighty Leaf Iced Tea
GoGoSqueeZ
Tea Forte Tea in 3 flavors
St. Clair's Organics Peppermints - Vegan!
Sunwarrior Protein powder
PowBab Superfruit Chews
Postcard
Over $12 worth of product discounts and coupons as well!
This months box was a pleasant surprise to me, I have already broke open several of the items and used them, including the peppermints - love them. Hubs claimed all the edibles as soon as he took one look, which is exactly what I expected him to do. (So much for keeping those mints to myself)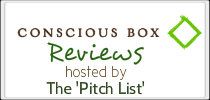 Whats in store for the August 2012 Conscious Box:
Next month will be the August 'Back to School' Conscious Box! It's going to have delicious, nutritious snacks, some great daily alternatives, and tons of other really fun stuff that everyone will enjoy, making it an AWESOME gift for all students, including K-12 and college. And yes, it's great for students and non students alike, so you can gift it to anyone! Just remember, you've got to order before the 6th of the month! This is the only legitimately healthy care package we've seen this year, and they're going fast!