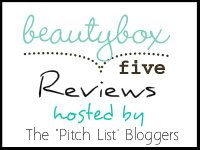 Beauty Box five delivers 4-5 beauty samples
each month,
in their beauty box, to your door!
Beauty Box Five
Bodyography foundation primer in clear
Psssssst Instant Dry Shampoo
Everyday Minerals eye shadow
Freeman Dead Sea Mineral Mask x 2
My thoughts: First 2 things I noticed were the eye shadows! One was a lovely neutral color, the other more of a pale peach. Even though they are made by 2 separate companies the colors look great together! I only wish I had the the holder for the Makeup Geek eye shadow since it is a refill, but it works just fine without the holder.
So don't tell Hubs I told you, but he used the Freeman Mineral Mask. He really is a good sport about things! I had him try it because I have very sensitive skin, so I tested a small bit behind my ear, while he tried it out. Hubs thinks "it feels girly", I think it has a great smell. I am pleased to say that I had no reaction to it, and will be trying the 2nd sample later this week.
I am still undecided about the Psssssst instant dry shampoo, but I like the Bodyography foundation primer, the feel of this primer is lovely. It is nearly impossible to get a foundation to stay on, here at Ft Bliss, in the summer time. Foundation simply seems to melt away, and I felt that while I had the primer on my foundation lasted through an entire event!
Overall, I think Beauty Box five has a good service, and I liked the products!