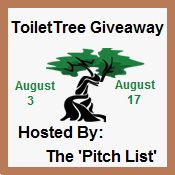 Toilettree began with a simple Christmas gift that did not live up to its promises, and so the recipient, his dad and brother set out to redesign and create a product that did work! In January 2010 Toilettree began selling its very own Fog-less Mirror for the shower, and soon began designing other bathroom products.
I have had the chance to try the Oral Irrigator over the past couple of weeks! The oral irrigator is lightweight and rechargeable, which is used to help promote healthy teeth and gums. It uses a jet of water to help clean teeth and gums in hard to reach areas.
Rechargeable cordless design powered by rechargeable batteries

Comes with a charging cord

Extra large reservoir is removable and easy to refill

Three operating modes for varying oral care needs: Normal Soft and Pulse

Rotating interchangeable nozzles great for multiple users

ToiletTree Oral Irrigator

Provides and easy and effective way to support proper teeth and gum health at home
When I was given the option of review one of Toilettrees products, I went right for the oral irrigator. Most everyone around me for any length of time, knows that I have a fascination with clean teeth. This is because I come from a long line of family members with chronic teeth issues, and has made me a bit......fixated with keeping my teeth clean and healthy. I brush 3 times a day, and carry dental floss in my purse, always.
Which makes this oral irrigator the perfect product for me to try, and I like it. The 3 different settings of pulse/soft/normal flow work well, and it is easy to use. My one wish is that the reservoir, while fairly big, does need to be refilled once while I am using it. But that would not stop me from recommending this to anyone.
You can buy the Toilettree Oral Irrigator on
Amazon
, or learn more about it on their
Website
-
Facebook
-
Twitter
pages, or use the Linky below to see what other bloggers thought of their products too.
Also! Thanks to Toilettree Win one below! Use the entry form below for all entries, open to US and Canada August 3-17!
Javascript must be enabled to enter this giveaway. Learn how to activate Javascript by
clicking here.

Loading Entry-Form