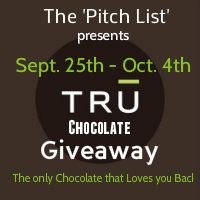 TRU Chocolate
aims to produce and distribute the world's healthiest chocolate made with only the purest all natural ingredients and beneficial to every human being on the planet. Made with organic ingredients and good for you too!
"The only chocolate that loves you back."
Chocolate delivered to my door, Exciting right? I thought so too! Something even better, this chocolate is all natural and tastes wonderful. It is a rich smooth dark chocolate, and they even survived the trip all the way to the desert! Check out more about TRU Chocolate on their
website
,
Facebook
or
Twitter
!
I was super sweet, and decided to share these with Hubs, since dark chocolate is his favorite. He was not disappointed, at all. In fact, I only got 2 pieces and Hubs ate the rest! I did notice a texture difference in this chocolate compared to others, it was "snappier/crisper" when I bit into it.
I shared with Hubs and now I am going to share with you! One reader is going to win 100 pieces of TRU Chocolate! Giveaway begins September 25th ends at 12:01am on October 5th. Use the form below for all entries, and be sure to check out the other blog giveaways for TRU Chocolate in the linky down below.
a Rafflecopter giveaway
Linky